Here's How You Can Get Both Years Of The Program For The Price Of One (And Save An Additional 20%)
WATCH NOW FOR COMPLETE DETAILS
(Note: Video Length is 3 minutes. Only available for a limited time. Leaving the page will cause video to play from the beginning. Order page button will appear mid-way through video.)
Lifetime access to all the lessons and resources so that you can relax, take your time, study at your own pace and build your fluency year after year

950 Pages of transcripts (PDF downloads) so you can receive the content in whatever format you learn best with

All your questions answered under every training video within the comments section

5 Weeks Of Review Sessions (conducted on the weekend mornings) to help you through the initial stages of the program. This is additional support offered by one of Mufti Yusuf's TAs.

WEEKLY Office Hours on Skype (conducted 2 times per week) where you can get the personal support you need and get your questions answered one-on-one

5 Bonus Second Year Courses to take your Arabic Learning to the next level and so you can study Islam at a very academic level and benefit spiritually.
Here's A Sample of What You'll Learn:
The inner core 4% of grammar and morphology that will enable you to start reading an Arabic book in the third week of class
Absolute mastery regarding the mechanisim of how meanings are conveyed in Arabic, both at the word level, as well as, at the sentence level
The ability to properly isolate verbal sentences into their major portions (regardless of their length) so that the subject, object and various other details of the verb remain clear
The skill of dropping the "is" correctly within nominal sentences, every time, so that you're protected from gross errors when understanding the Qur'an or reading the books of the scholars
Unique formulas and techniques you will use to read without vowels so you're never dependent on the translations and interpretations of others
…and much, MUCH more.
Plus You'll Also Get These Amazing Bonuses:
BONUS #1: The Premium Alphabet course - 21 lessons taking you through all the letters (writing, reading and precise pronunciation), all the way up to advanced reading and writing and linguistics. (value: $297)
BONUS #2: Mohtanick Jamil's Bonus Module - 8 lessons that will give you clarity on how the language works and show you how to conjugate verbs and accurately understand different types of sentences. (value: $197)
BONUS #3: Tafseer (second year course) - Where you'll take everything you've learned in the first year and use it as we look through two large surahs of the Quran and witness the miracle come alive before our eyes (value: $375)
BONUS #4: Advanced Grammar (second year course) - To develop true proficiency so that you can read Arabic just as easily as you read English (value: $375)
BONUS #5: Classical Logic (second year course) - Which will train you to think analytically and protect you from misleading and logically incongruent arguments (value: $375)
BONUS #6: Rhetoric/Balaagha (second year course) - Learning the science of eloquence, i.e. the art of using the most appropriate language to suit each unique situation. When you understand this science and see how every word of every verse in the Quran so perfectly matches the needs of the situation it was revealed for, then you can't help but fortify your faith. (value: $375)
BONUS #7: Hadith Studies (second year course) - Study the science of Hadith on a very academic level as we go through the first 300 ahadeeth of the famous Mishkaat al-Masaabih. Imagine the joy you'll experience when you're able to understand the words of the Prophet (SAW) as if he was speaking to you directly. (value: $375)
IMPORTANT: Keep in mind that the "Hadith Studies" bonus (or any other for that matter) is not something you have to focus on right now. You are more than welcome to NOT attend these classes the first time they are offered if you don't feel ready!
They are there for you when you get to those levels of understanding and appreciation (and you won't have to pay extra and that's the point).
They are not there to distract you from mastering the language.
All orders 100% SAFE using our SECURE server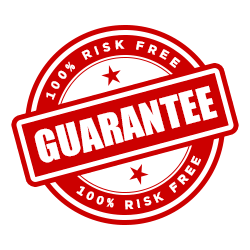 30 Day Unconditional Guarantee!
You have THIRTY full days to try out the Shariah Program, examine the materials, use what you wish, and attend the live classes.
If for any reason or even no reason, you want to withdraw from the program, simply send one email, and you will receive a full refund immediately. NO questions asked. You will not need to present any reasons for withdrawal, send anything back, fill any forms, or otherwise jump through any hoops. No hassle. No "fine print". Simple and straightforward; you find yourself attaining your goals faster than you imagined possible or you get a full refund.
And, incidentally, we're devoted to the goal of only having satisfied students. If you're not going to make use of the resources and the quality instruction we provide, we really would prefer that your payment be returned to you.
If you're wondering, the refund request rate over the last 12 years, as of this writing, is well below 4%. So with this remarkably generous guarantee, you may sign up with complete confidence.
Watch this short 15 minute Q&A video
What are the prerequisites? Is the program suitable for beginners who are still unfamiliar with the alphabet?

There are no prerequisites, so anyone is welcome to join. For beginners, there's a 21 lesson Premium Alphabet Course provided to you as a bonus which presumes no prior knowledge of the language whatsoever.

Is the content device constrained?

The resources are accessible on any type of device, 24 hours a day, 7 days a week from anywhere in the world. Since the content is downloadable, you can view it offline. We've kept the files lean but packed with content so you can watch them again and again

On average how many hours would a student be studying?

We typically recommend about 5-7 hours but its really up to you. Even 2-3 hours a week consistently will have you reaching very high levels of proficiency inshallah. Remember that your membership is for life, so you can spend as much (or as little) time on your studies as you have.

Will l be able to speak conversational Arabic after completing this program?

We do not focus on developing conversational fluency as a goal. The primary goal of this program is teach you enough classical Arabic that you can understand what Allah Most High has intended for you in the Qur'an. So we channel all the effort that would have been devoted to building conversational fluency towards building VERY strong reading and comprehension skills.

Where did you graduate from? Which madrassas?

I'm traditionally trained, Alhamdulillah. I started studying in 1989 when I was only 13, completing my Hifz and basic subjects in the U.K. I then pursued higher education in Pakistan and graduated from Darul Uloom Karchi under the tutelage of Mufti Taqi Usmani.

How does the program work? Are we studying on our own, or do we interact with the teacher? What are the weekly class timings?

90% of the learning happens through the grounding materials (videos and transcripts) at the membership portal. Your first layer of support is directly under the videos in the comments section. We also provide live Review Classes for new students and weekly Office Hours with one-on-one support through Skype. There are also premium live classes that I conduct personally, that involve separate registration. Those only start up twice a year, in March and October.

What level would one be at after having completed this course?

You'd be at the level of a full time madrasa student who has been studying Arabic for 3 full years. Imam Taftazani's book in Balagha is incredibly complex and most madrasas don't even teach it any more. Ibn Aqeel is a third year madrasa book.

I've tried studying Arabic before, but I'm not a languages person. If I enroll but find that I'm not able to do it, what are my options?

The whole point of the 4 lesson workshop was to completely crush this concern that your inability to learn the language has anything to do with being a "languages person" and everything to do with the method. Please don't register unless you got at least that much from the free training.

If all you've done is watched 3 minutes of one video, it would be better NOT to register at this time and instead focus on the free materials. Having said that, there is a 90 day unconditional guarantee which is there for your protection.

I want to learn how to teach. Can you help me meet this goal?

Absolutely.

Once the concepts are clear in your mind and you know them well, you can model my method and it will make you an infinitely better teacher.

The key is knowing how to organize topics; emphasizing the CORE of the language and intentionally suppressing details and also presenting key discussions as solutions to problems. If you pay attention, it's not particularly difficult to model.

Is there a way for me to gift a subscription to a student unable to pay the fees?

Thank you for considering the purchase of a gift subscription!

Your thoughtfulness and generosity will help another Muslim gain more knowledge of the Quran and perhaps change their life in unimaginable ways.

We receive many sponsorship applications from all over the world and your kind contributions are invaluable to those whose circumstances do not allow them to cover the subscription fee.

Please email us at info@shariahprogram.ca with the number of registrations you'd like to sponsor and someone will get back to you with further details, inshallah.

Do you have exams or assignments? How do students keep track of progress?

The biggest testament to progress in your studies would be your ability to read and translate the text. We focus on giving you all the tools and practice to be able to do this accurately. That said, we also have self-assessment quizzes at the end of each weekly module which will take about 20 minutes and ensure you're ready to move forward.

Is it possible to just purchase the books and study on our own through them?

This question presupposes that the method we've developed to teach the language can be found in the books. And that can't be further from the truth. There is no value in the books if you don't have someone to guide your learning through the big-picture first approach.
Have You Heard What Other Students Are Saying?
"I am a father of 9, so time is a luxury that I don't always have. I have tried for several years to learn the Arabic language and this course has allowed me to achieve more in the past 15 months then I have in all my previous years collectively".

Kyree Spain,

New Jersey
"I took one year of University Arabic course and came out with zero understanding of morphology and grammar. But just few weeks after enrolling in the Shariah Program, I started to understand portions of what the Imam recites from the Holy Quran during salat "

Saad Anjum
"When i first read comments raving about shariah programme, i thought they were a bit over the top until i started the course… subhanallah wow!  It really is the only course outside the middle east that teaches Arabic as of you were studying under a sheikh abroad."

Zakra Ahmad
"I don't know of anything comparable being offered elsewhere in Canada or the US in English. WHAT YOU COVER IN THIS COURSE IS WHAT PEOPLE GO OVERSEAS TO SYRIA, PAKISTAN AND ELSEWHERE FOR. I spent 9 months in Damascus studying Arabic and this course is better organized and more thorough, and you can take it without quitting your job. If this had been offered then I wouldn't have needed to go…"

Waqar Ali Khan,

Canada
"One thing i have picked up from the teacher is his clever way of making you believe you can do it and changing your mindset regarding Arabic as a whole. Mulana Yusuf will either say, "if you got that then its really good, " or, "if your confused then even that is good because it shows that your mind is working!!" Simply brilliant." 

Wisdom
"I had almost started believing that online programs cannot deliver on the real stuff… But after 10-11 months in your program, my faith is restored that it can be done" 

Ali Abidi, Baton Rouge, Louisiana
"I had no experience with Arabic outside of knowing the alphabet, I was previously a Christian, and have been a Muslim for 3.5 years. Already by the third week, [I'm] reading an Arabic text, which is amazing! I definitely think this is worthy of your time and money, everything is setup for you to succeed."

Sr. Samantha
"Allah Most High has blessed him with amazing skills. How to take these tedious disciplines within the Arabic language... and he is able to manipulate it in a way to make it feasible and palatable for the beginner student to understand. And in some years, even some months, if you dedicate yourself to this program carefully, you may very well be understanding the Qur'an..."

Hafiz Junaid,

Toronto
Here's some additional testimonials that were posted beneath my latest free video series.
I strongly encourage you to watch the 15 video testimonials listed above. But, if you're short on time then here's some Facebook comments you can read (or skim over) rather quickly inshallah.
I'm adding a few of them just so it doesn't seem we singled out one or two really good ones. There are A LOT more but I think you'll get the point. This is the real deal!
HURRY! Claim Your Spot In The Online Arabic Program NOW!!!